Are you looking for information about gambling rehabs? This article discusses what happens at rehab, alternatives to residential treatment centers, and 5 advantages of online gambling rehab.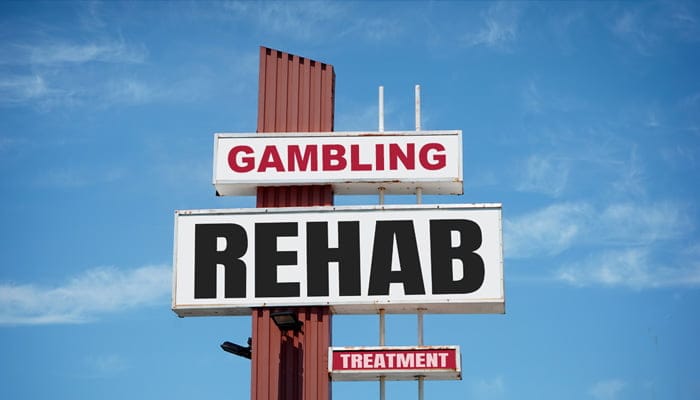 What happens at gambling rehabs?
Every rehab center for gambling has its own procedures. Here is an example of what that could look like.
The staff consists of trained counselors, psychologists, and administration. If you stay at a residential treatment center, there is also staff for cooking and cleaning. (If, that's not done as part of the recovery process.)
We're living in a time when we carry casinos in our pockets. The first thing you'll be asked to do is to hand in your cellphone, tablet, and other devices. Stop gambling treatment, will also be a time of recovery from cellphone addiction.
When you're in the gambling addiction clinic, they will assess your gambling background and any other addictions you might have. Then you'll attend individual therapy and join group therapy sessions daily. Some rehab from gambling addiction facilities follows the 12-step program of Gambler's Anonymous. One example is Algamus.
GA meetings are part of their process to help you stop gambling, and it's the foundation for their aftercare process. You'll participate in GA support meetings every day as part of the treatment.
How long does gambling rehab take?
When you attend a gambling recovery center, the time at the rehabilitation center is 1-2 months. During that time, you attend individual therapy, group therapy, and other group activities. On our problem gambling statistics page, you can read more about the success rates of gambling treatments.
What happens after gambling rehab?
Depending on the gambling rehab centers, you get an individual rehabilitation plan. The plan contains tasks you need to do, things to think of, meetings to attend, and people you can contact.
One of the biggest advantages of staying at a gambling addiction rehab center is the people you get to know. During a few weeks, you'll live closely and share things you might never have shared with anybody. These experiences tend to create strong bonds between the attendees. Often these connections are more beneficial to a successful recovery than the actual gambling treatment. In Sweden, 3/4 who attended gambling treatment were men in 2022.
Alternative to rehab for gambling addiction
When we think of gambling rehab, we probably think of a treatment center somewhere. But rehab is just another way of saying recovery. There are several alternatives to rehab for gambling addiction. Finding a support meeting is the most common. For many, that's the first attempt to stop gambling. Gamblers Anonymous is doing a fantastic job and works for some people.
There are many reasons why people don't want to attend GA meetings. Perhaps shame, fear, and pride are involved in admitting to a problem. Or, it doesn't feel socially right to do. An alternative to GA is QuitGamble.com. It's an online platform developed to help people overcome gambling problems. A third alternative is calling a gambling hotline, discussing various solutions, and attending counseling.
Can you do gambling rehab online?
If you want to stop gambling without calling hotlines, attending counseling, or staying for weeks at a gambling rehab clinic. QuitGamble.com offers that alternative. You can stop gambling in the comfort of your home. Nobody needs to know what you're doing, and it's easier to hide than to come up with an excuse to go to a support meeting.
On QuitGamble.com, you can work at your own pace, completely anonymously. It's good if you admit to a gambling problem, but if you don't want to, you don't need to. You can join the community with over 2200 members.
5 advantages of gambling rehabs online:
It's free, or very inexpensive.
Available directly, 24/7
You can remain anonymous.
You don't have to admit to gambling addiction to join.
You can stop gambling from home.
On QuitGamble.com, you get an individual plan for how to stop gambling based on the Happiness Test, and the question: What happens when you gamble? After that, you become part of the community and get video courses to work with.
Finding gambling rehab near me
There are a few gambling rehab centers across the globe. The best way to find a rehab center for gambling is to contact your local gambling hotline. They know what's available in your state or country.
What you want is a gambling rehab center, not a rehab facility that isn't specialized in gambling. In some places, they mix alcoholics with gamblers and use the same treatment. That is rarely effective. If possible, choose a center dedicated to helping gambling addicts.
List of gamblers' rehabs in the US
There are a few residential rehab centers for gambling across the states.
Algamus Gambling Treatment is a facility up in the mountains in Arizona. They have 12 beds and the treatment is between 4-6 weeks long. The cost for a month is €16000. You can reach them on 888-527-2213.
Center of Recovery (CORE) is run by the Louisiana Association on Compulsive Gambling. CORE is a gambling rehab near me if I live in Louisiana. The center has 21 beds and is specialized in gambling addiction treatment. Call 318-424-4357, if you want to know more about their treatment options.
Project Turnabout, center for addiction recovery has been active since 1970. They have 4 centers in Minnesota. If you want to know more, you can call 320-564-4911. The organization deals with drug addicts and people struggling with gambling.